Agape Choir
The Agape Choir sings on the second Wednesday of each month and at the 8:30am and 11am services on the last Sunday of each month.
The Agape International Choir, under the direction of Rickie Byars Beckwith, is the core music ministry of the Agape International Spiritual Center.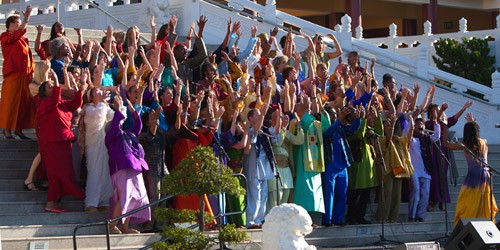 Photo by Jorge Vismara
A multiethnic group with an average roster of 150 members, the Agape International Choir began with a 30-voice holiday season presentation in December of 1988. With the combined writing and composing talents of music director, Rickie Byars, and founding minister, Rev. Dr. Michael Beckwith, the choir, early on, began performing original Beckwith/Byars compositions. As the choir has developed and grown in membership, so has the complexity of Rickie Byars's vocal and instrumental arrangements. Over the past six and one-half years, Agape Choir music has become known for its signature sectional harmonies, counterpoint, tempo-patterns, devotional power, and energetic enthusiasm.
During this same time, the "sound" of the Agape Choir has truly had an international reach. Through either live appearances, through Choir Sunday tapes, or through studio and live concert tapes, Agape Choir music has been heard from Santa Monica to South Central; from Somalia to South Africa; from all across the United States to all around the world.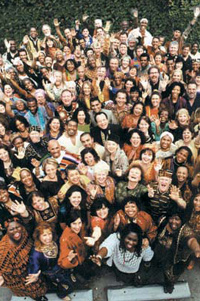 From the power of a cappella prayer to rousing rhythmic celebration and affirmation, Agape Choir music moves listeners from all walks of life, from tears of inexpressible joy to literally dancing in the aisles.
Agape Children's Choir
The Agape Children's choir is open to children 5 to 9 years old (younger than 5 years old need special permission). Call Elle Perrault, director, at (310) 348-1260 x636 for more information.